Tickets for Upcoming Shows
Tickets
R.U.R. is the classic Czech sci-fi play by Karel Čapek that coined the term "robots." Translated into English by David Wyllie and re-conceived for a modern audience by Mary Parker, our version explores the same themes of humanity, love, the value of work, and the dangers of oppression as the original, while re-imagining the more problematic aspects of a play that is almost 100 years old and very much of its time.
On a remote, secure island, Rossum's Universal Robots churns out a cheap, disposable workforce. Rossum's robots are strong, intelligent, and versatile, and more definitely not human. What could go wrong?
Performances: March 15–24, 2018
Ticket Prices for R.U.R.:
Adults – $15
Students and Seniors (62+) – $12
Group discounts are available for 8 people or more – email
groups@theatreatfirst.org
Buy Tickets in Advance at Brown Paper Tickets!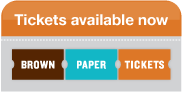 If you would like to reserve your tickets now and pay at the door, please use the form below. Tickets at the door may be purchased with cash or a major credit card.